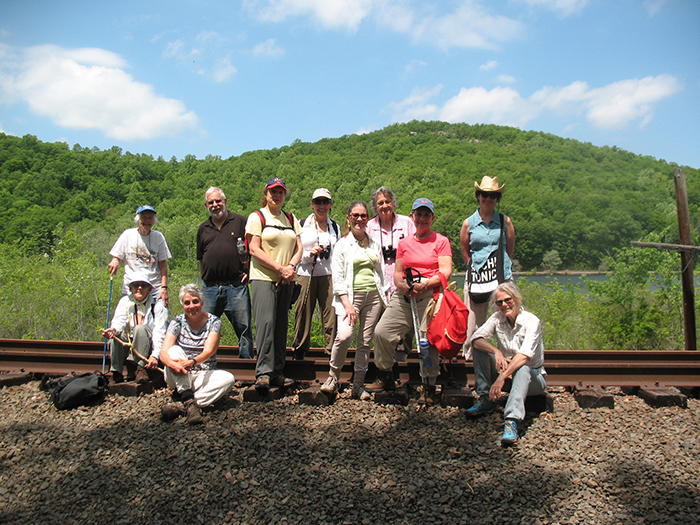 Membership in Friends of the Great Swamp is open to anyone concerned about the health and future of the Great Swamp, with its critical wildlife resources, flood control, recreation and its role as a purifier of water. You can become a member for many different reasons:
Because you are interested in the Great Swamp and its conservation for future generations
Because you want to participate in events and help the organization educate the community
Because you want to protect natural resources and stop or reduce development that may encroach on wetlands
Because you want to have recreational opportunities with like-minded conservationists
Because you have time or money and want to donate it to organizations that make a real impact
Members are encouraged to participate in FrOGS activities such as:
The Annual Great Swamp Celebration
Ongoing research of water and wildlife
Canoe trips
Other scientific and educational projects
FrOGS is a "hands on" organization with important and critical tasks to accomplish in a limited timeframe. The Great Swamp is under heavy pressure from development and we have to be ready to act proactively and respond quickly.
Anyone can sign up for our event alerts, but only members receive newsletters and special emails, as well as advance notice of upcoming events. A membership in FrOGS puts you on the front line of conservation, protection, and education.
Contributions are greatly appreciated.
We only ask for what we need to perform valuable functions. Throughout the year we have many educational and recreational activities where you can contribute as a volunteer, a donor, or both. If you want to help us financially, please consider making a membership contribution or donation here: Memberships & Donations.
You can also make checks out to: Friends of the Great Swamp and mail to our address.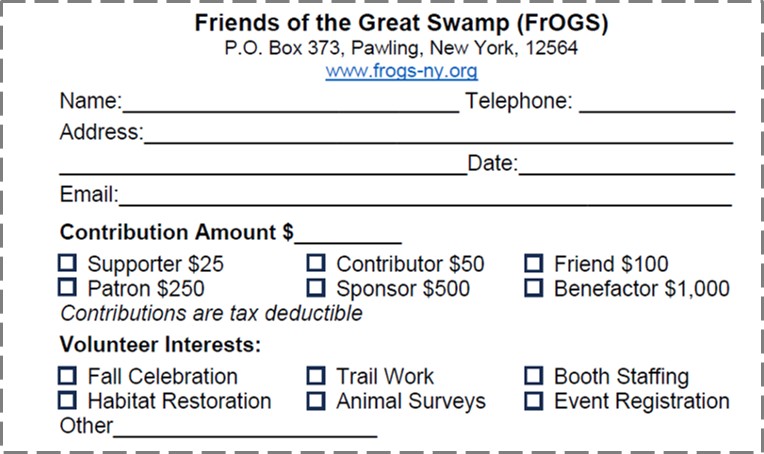 Your donations are tax deductible. Use your browser's print button to print this page and cut out the coupon, or download and print the Donation Slip here, and send it with your check to:
Friends of the Great Swamp (FrOGS)
PO Box 373
Pawling, NY 12564